History
Good translation..., I'm still working on it...

1759
On the 18 September, the city of de Québec falls to the hands of the British.
1760
On the 8 September, the city of Montréal falls to the hands of the British.
1763
The "Traité de Paris" puts an end to the Seven-year war opposing France and England. Canada and the left side of the Mississipi pass from France to England. France keeps the "St-Pierre et Miquelon" islands.
1774
By the "Acte de Québec", London reviews the clauses of the capitulations of Québec and Montréal. The French-Canadians conserve the French civil code and they are authorised to speak their thong and to practice the roman religion.
1779
The idea of a citadel in Québec comes up in a letter of governor Haldimand to lord Townshend, who requires the transformation of Québec into a formidable fortress.
1783
Plans by captain Twiss of a temporary citadel in Québec.
1800
Establishment inside the fortification walls of the Québec citadel of a service depot.
1801
Addition of a stone powder magazine at the Québec citadel that can be considered as the origin of the Québec Arsenal.
1804 @ 1822
Addition of four tours Martello towers to the fortifications of the Québec citadel (one will disappear in 1900). The plans are of Holland and Twiss and the project realised by colonel Durnford.
1823 @ 1832
Construction de la Citadelle actuelle à Québec avec la poudrière qui rappelle l'origine de l'arsenal.
1858
The Fenians, a secret Irish society is formed in the U.S.
04/1865
End of the american civil war.
1866-1870
The Fenians have raids in Ontario and Québec. The Fenians where trying to capture Canada to ransom it against the freedom of Ireland. The Canadian militia (of witch a part became the 6th battalion of the R22eR) and the British regular army where victorious.
1867
The British North American Act creates the Dominion of Canada (Canadian confederation). Article 15 of the constitution recommend the maintenance of a 40 000 men militia. The possibility of producing arms and ammunition come to the attention of the authorities.
1870
Recalling of the British troops who leave Upper-Canada, Lower-Canada and New-Brunswick and the 60th Regiment (Rifle Brigade) pulls out of the Citadel.
1871
Departure of the last British troops from Canadian soil. From now on, the Dominion of Canada will assure it's own territorial defence.
12/1879
The Canadian government decrees the creation of the "la Cartoucherie de Québec", the Québec cartrige-factory.
1880-81-82
Erection and maintenance of the first buildings of the "Arsenal de Québec", the Québec Arsenal on the "côte du Palais" (a street). Part of the buildings of the "Arsenal de Québec" are : la redoute Dauphine (Dauphine redoubt), une section de "les nouvelles casernes" (section of the new barracks) and l'entrepôt d'affûts de canon (the cannon-carriage warehouse). The Dauphine redoubt was the residence of the superintendents of the Québec arsenal from 1880 to 1958.
1883
Sir Adolphe Caron, minister of defence, informs Parliament that the Québec Arsenal is functioning with an indisputable success. In twelve months, the plant workers produce a million cartridges.
1884
The "cartoucherie de Québec"atteins a global production of 2 200 000 cartridges. Official opening of the Québec Arsenal.
1884-1885
First confrontation by Canadian troops in a battle abroad :
from Alexandria to Khartoum, the Sudan War and the Nile Expedition.
1885
The Quebec Arsenal (the "cartoucherie") brings its production up to 1 500 000 cartridges in 2 months in view of a first large internal use of the canadian army since the start of production at the arsenal in 1882 : the taming the Métis Revolt, Insurrection, Rebellion in Western Canada (Louis Riel and Gabriel Dumont).
1886
At the Québec Arsenal, the productivity is double the estimate. The Federal Government ads the production of shells to the cartridges.
1887
The shell production is ongoing at the Québec Arsenal.
1890
At the Québec Arsenal, it is undertaken to fabricate shells with cast iron from the Trois-Rivière foundry.
1891
To proof the big shells from the Québec Arsenal, the shooting range is moved from the "Cove Fields" (plains of Abraham) to l'île d'Orléans. The first experiences are made with "cordite", a new powder without smoke.
1895
Death of Major Oscar Prévot, the spirit and creator of the "cartoucherie de Québec" (Québec Arsenal), his successor, captain Frédéric-Mondelet Gaudet, will become in 1914, the first commander of the 22nd French-Canadian Regiment.
1899-1902 (1900)
Second confrontation by Canadian troops in a battle abroad :
Paardeburg, the Boer War.
1901
Expansion of the factory and of the "Cartoucherie de Québec", it becomes the Dominion Arsenal.
1902
A big demand brings the working hours from 48 to 60 a week at the Québec Arsenal.
1903
Major J.-D. Brousseau of the army medical service is the first permanent military doctor of the Québec Arsenal. Dr A. E. MacIntyre, a chemist, is permanently appointed. It is said that the Québec Arsenal administrators were always concerned at the highest degree by the well-being and health of the personnel.
1911
A small engineer-counselling firm is founded by Arthur Surveyer (the S in SNC).
1912
The "Cove Fields" (plains of Abraham) becoming the "Parc des Champs de Bataille", the Arsenal must acquire a vast piece of land in the de Saint-Sauveur parish to organise it's shooting range.
1914 @ 1918
The number of employees at the Québec Federal Arsenal reaches 900.
First World War
1914
Establishment of a military base on land of the original Saint-Gabriel-de-Valcartier parish (Seigneurie de Saint-Grabriel, 1647). This site was chosen for being at less than one day's walk from the transport ships at the Québec naval port (harbour). Map of Valcartier Camp 1914.
1914
First Shannon land expropriation by the Valcartier military camp, at 24 km north-west of Québec city.
1914
At this time, Canada had 3 110 men in the regular army, and from the fact that Great-Britain was at war, so was Canada, and in a few weeks, more than 32 000 men and 8 000 horses were at the Valcartier camp.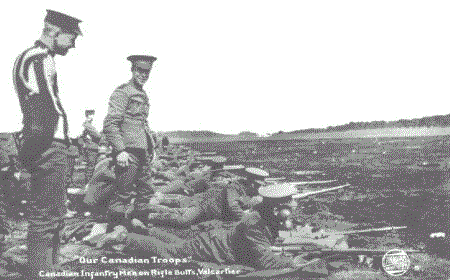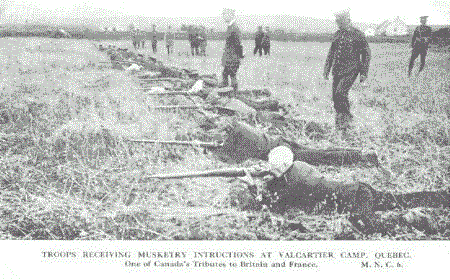 1915
Valcartier military camp is used as an internment camp for Ukrainians and other nationalities who represented a danger and a menace for Canada. Document Document

enumerating war "prisoners" names at the Valcartier camp. Valcartier concentration camp photograph in 1915.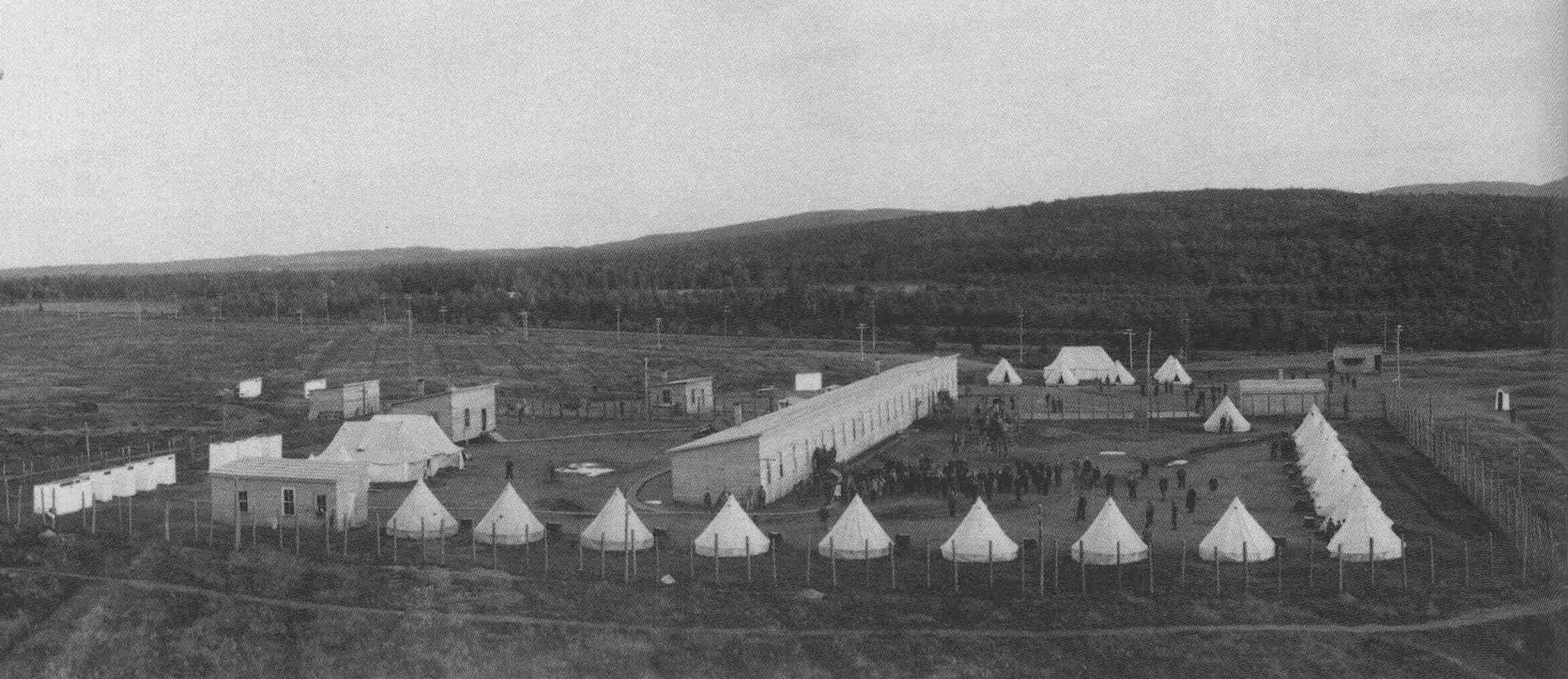 ~ 1930
During the "great depression", by the introduction of the federal program of work camps for unemployed persons, established in Canada, the aid camp (military) of Valcartier is expanded by workers paid "20 ¢" per day for works on land-clearing, renovation and construction. Some constructions on the Valcatier base are still called by the name "vingt cennes" or "20 ¢" in French and the workers were also known under the wording of "Vingt cennes". The workers clear and also prepare some land in expectation of the buildings for a new arsenal in Val-Rose.
1935
At the nearing of the second world conflict, the Canadian government builds new installations and ammunition factories in Val-Rose (Valcartier), while already existing buildings are converted into an arsenal. Québec province is surnamed "L'Arsenal du Canada", "The Canadian Arsenal".
1937
Partnership regrouping Arthur Surveyer, Emil Nenniger et Georges Chênevert.
1938
Opening of the Val-Rose (Valcartier) factory for the filling of ammunition.
Second World War
1939
1940
Opening of the Saint-Malo (in Québec City) factory for the making of cartridges and bullets.
1940
In October, the Arsenal is transferred from the ministry of national defence to the ministry of munition and supply.
1945
The Canadian Arsenals limited, a crown corporation is established.
1945
The National research council (NRC) establishes a defence research laboratory, the Valcartier artillery and small arms proof and experimental establishment, adjacent to the Canadian Arsenals.
1945
When the allies invade Germany, they discover large stocks of known and unknown chemical arms (neuro-paralysing gas). To meet the mass production demand and the standardisation of arms and ammunitions, the NRC (National research council) forms a committee on ballistics and ammunition. Because of the dangerous materials, an isolated laboratory, the Ammunitions laboratory at Valcartier became the CARDE (Canadian Armament Research and Development Establishment of the Department of National Defence) and was established at Valcartier near Québec.
01/01/1947
Constitution of the Shannon Municipality.
1947
The Surveyer, Nenniger and Chênevert firm takes up the name of SNC inc.
01/04/1947
CARDE is integrated into the Research council for defence, DRC.
1950
The Korean war procured a revitalisation of activities for the plant of the Québec Arsenal on "côte du Palais", QC.
1964
The Canadian Arsenals Limited (Dominion, of Canada, federal, of Québec) conducted studies to "determine if certain divisions of the Company should be sold to industry in order to provide a greater scope for their manufacturing potential, while protecting the military function for which they were designed".
1965
Second land expropriation from Shannon by the Valcartier military camp for, between other things, the creation of a private hunting and fishing club.
1967
The Dominion Arsenals (Dominion Arsenal Division de ACL) privatised the plant at Val Rose (Valcartier) and a group of investors (
1969
The CARDE name is changed for DREV (Defence Research Establishment Valcartier).
1980
Acquisition of the Valcartier "IVI Industries" from "Les Industries S.L.M. Inc." by the "SNC group" and the new name will be IVI Inc.
1986
SNC, already owner of "Les Industries Valcartier Inc. (IVI)", acquires the assets of the "Canadian Arsenals Limited" from the Canadian government.
01/1988
In January, the "D.S.C., Département de Santé Communautaire (Community Health Department)" of the "Centre hospitalier de l'Université Laval" (Laval University Hospital Centre) publishes a study report of about a hundred page in which we can read that :
Dans le secteur industriel du pétrole et de la chimie, il y a dans la M.R.C., les Industries Valcartier qui fabriquent des munitions et explosifs, et que le Centre de recherche sur la défense (CRD) et la base militaire de Valcartier étaient à inclure dans cette catégorie.
Les Industries Valcartier constituent une des principales sources d'eaux usées industrielles de la région de Québec et la plus importante du secteur. Les eaux usées sont déversées, après un certain traitement, dans un affluent de la rivière Nelson qui se déverse dans la rivière St-Charles en amont de la prise d'eau de la ville de Québec. Nous ignorons la nature exacte du système de traitement des eaux mais ils utilisent un puisard pour recueillir les boues de traitement, lesquelles seraient épandues deux fois l'an dans un champs du voisinage.
Les eaux usées sont susceptibles de contenir des métaux, des solides et des huiles. Des mesures de qualité de l'eau effectuées sur la rivière Nelson en aval du déversement industriel montrent des augmentations des concentrations de métaux au-delà des normes de qualité.
Le Centre de Recherche sur la défense (CRD), et les Industries Valcartier produisent des déchets dangereux. Cette dernière produit annuellement environ 70 000 T de résidus.
Le groupe d'étude et de restauration des lieux d'élimination des déchets dangereux a inventorié les sites d'élimination de la région 03. Deux sont campés dans la M.R.C. de la Jacques-Cartier, sites 44A et 44B aux Industries Valcartier à St-Gabriel-de-Valcartier. Il s'agit du "puisard" et du lieu d'épandage des Industries Valcartier Inc. Le "puisard" recueille des boues de traitement contenant du cuivre, du zinc, du plomb et de l'antimoine. Il ramasse de même des solides provenant du traitement des eaux du "réseau pluvial" contenant des huiles et des graisses. Ces déchets sont épandus deux fois par années sur un lieu situé sur les terrains de la compagnie. Le fond du puisard est de sable et le sous-sol est perméable à l'infiltration des polluants (sable sur une couche d'argile).
Map of sites 03-44A (approximately C lagoon) and 03-44B (approximately A lagoon) on SNC-Lavalin land. This map dates of 1983/84 in GERLED reports.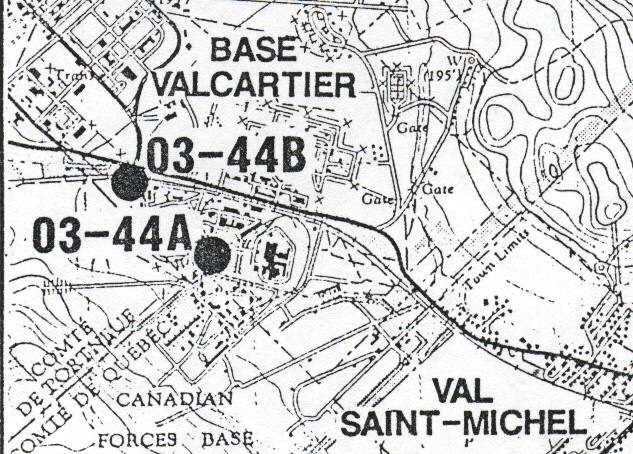 Le lieu d'épandage a été placé dans la catégorie III car les étendus pourraient contaminer une nappe d'eau souterraine ...
La M.R.C. de la Jacques-Cartier éprouve des risques environnementaux et sanitaires d'origine industrielle relativement importants. Ils sont cependant uniquement localisés dans un secteur très précis, aux limites sud-ouest de la municipalité de Valcartier (St-Gabriel). Les Industries Valcartier Inc. et le CRD produisent des déchets dangereux et en éliminent une partie sur des sites situés à l'intérieur du territoire et qui représentent des risques faibles à moyens de contamination de l'environnement, mais peu de risque pour la santé publique. Les eaux usées industrielles et les eaux d'infiltration peuvent contaminer la nappe phréatique ainsi que les cours d'eau locaux. La nature même de production industrielle, du type de recherche et des activités militaires du secteur laisse croire qu'une catastrophe "technologique" peut s'y produire. Dans un tel cas, c'est toute la région de Québec qui pourrait en être affectée.
Ceux-ci (les dépotoirs à ciel ouvert) représentaient des risques importants pour la santé publique par leur surveillance déficiente, la contamination possible des eaux de ruissellement et de la nappe phréatique et par l'absence de contrôle des substances éliminées sut le dépotoir. ... un dépotoir à ciel ouvert est encore en activité sur la base militaire de Valcartier. Cet organisme n'est pas soumis à la législation provinciale comme tous ceux relevant du gouvernement fédéral.
Les municipalité de Shannon, ... Valcartier (St-Gabriel), la base militaire de Valcartier, ... puisent leur eau de prises situés dans la zone de vulnérabilité élevée.
Il y a des sources de pollution sur le territoire. La nappe phréatique peut se faire contaminer par divers éléments comme les anciens dépotoirs, ... les deux sites d'élimination de déchets dangereux de Valcartier (St-Gabriel), ... La contamination est souvent progressive dans le temps et apparaît plusieurs années plus tard.
Nous ignorons quelles méthodes de disposition finale des boues (de bassins, étangs et fosses) sont utilisées par ces municipalités (incinération, rejet sauvage, lagunage, enfouissement, épandage, etc.)
Les Industries Valcartier constituent également une source importante de pollution surtout en ce qui concerne les métaux. Des concentrations au-delà des normes ont été relevées. La qualité de l'eau de la rivière est très mauvaises à la hauteur de Valcartier ...
Les principaux risques potentiels demeurent :
- les deux sites d'élimination de déchets dangereux de Valcartier
- l'élimination des boues de fosses septiques
La qualité de l'eau potable et des eaux de récréation inquiète plus particulièrement. Il serait pertinent d'améliorer nos connaissances sur la qualité de l'eau potable (communautaire et privée) du secteur et de tenter d'en évaluer l'impact réel sur la santé de la population de la région.
On observe aussi une contamination par les métaux (rivière Nelson) ...
Conclusion et recommandations
| | |
| --- | --- |
| - | analyse régulière des prises d'eau privées (puits, sources etc.) |
| - | la nécessaire protection de l'eau souterraine compte tenu du grand nombre d'utilisateurs et des zones de vulnérabilités élevées, ainsi que la vigilance primordiale à tout instant de la part de tous les citoyens |
... il faudra voir à approfondir nos connaissances et rechercher des informations supplémentaires concernant:
| | |
| --- | --- |
| - | les rejets d'eaux usées, la production de déchets dangereux et les deux sites d'élimination de déchets dangereux des Industries Valcartier Inc. |
| - | l'approvisionnement en eau du territoire, particulièrement en ce qui concerne les eaux privées |
| - | la qualité de l'eau potable (communautaire et privée) du secteur et tenter d'en évaluer l'impact réel sur la santé de la population de la région |
Il faudra voir aussi :
- à tenir à jour le profil environnemental
- rendre public le présent recueil
1988
End of sports ammunition production at the Valcartier IVI Inc. (SNC Tec) factory.
1991
Closing of the Valcartier IVI Inc. factory.
1991
Fusion marking the history of the SNC firm ; the two biggest engineering firms of Canada, SNC and Lavalin, unite under the name of SNC-Lavalin.
1994
Construction on the IVI Inc. (SNC Tec) site of the "maximum security burying cell" for contaminated soils and industrial wastes.
1997
Shannon celebrates its 50 years of existence.
10/1997
"SNC Technologie inc." (a 100% "SNC Technologie inc." (a 100% subsidiary of SNC-Lavalin) advises the DREV of the presence of TCE in the aqueduct network supplying the base, the military family residences (PMQs) and part of Shannon. The network is at that time supplied by well P-5. Health Canada confirms 60 µg/l (60 ppb) levels, which is higher than the Canadian norm of 50 µg/l (50 ppb) and higher than the American norm of 5 µg/l (5 ppb).
31/03/2000
In the In the SNC-Lavalin Group Inc. Annual Notice, it is written that SNC Tec. possesses at Valcartier a property that spans 473 acres of land with a ground surface of 54 500 square metres.
21/12/2000
The residents of the King's Drive, Jacques-Cartier and De la Station perimeter, receive from the Shannon municipality a letter containing the following :
"La Municipalité de Shannon a récemment été mise au fait d'une contamination possible de certains puits de notre municipalité. Lors d'un échantillonnage de 12 puits, un dépassement de la recommandation fédérale pour le trichloroéthylène (TCE) a été observé dans deux puits."
Cette lettre était accompagnée d'un avis de la Direction de la Santé publique informant les citoyens des secteurs mentionnés "de ne pas consommer l'eau du robinet, de ventiler la chambre de bain lors de prise de douche ou encore de faire fonctionner la hotte de la cuisinière lors de la préparation des repas."
8 février 2001
Tenue d'une réunion publique convoquée par la municipalité de Shannon. C'est dans une salle remplie de plus de 500 citoyens qu'elle se déroule. Des représentants de la Santé Publique, du Ministère de Environnement du Québec, ainsi que de la Municipalité de Shannon, se succèdent au microphone et tentent de répondre aux questions des citoyens. La réunion se déroule dans une atmosphère de colère car les citoyens apprennent que dès 1997, les autorités de la Base de Valcartier savaient qu'ils étaient aux prises avec un problème de contamination et que personne n'a cru nécessaire d'aviser la Municipalité de Shannon et ses citoyens.
Une résidante propose la formation d'un comité de citoyens. Le Ministère de l'Environnement s'engage à vérifier tous les puits du coté Sud de la rivière de façon à rassurer la population. La population est informée que des filtres au charbon activé, seront installés dans toutes les résidences où le taux de contamination au TCE dépassera la norme américaine de 5 µg/l ou 5ppb ou 5 parties-par-milliard (US/EPA/MCL, United-States/Environmental Protection Agency/Maximum Contaminant Level).
9 février 2001
At a press conference, the DND offer excuses to the Shannon municipality for not informing the elected municipal members that they knew of the Base well contamination since 1997.
14 février 2001
Meeting of the Shannon citizens for the creation of a vigilance group. The representatives of the Shannon Citizens Committee are elected and the committee is in existence.
22 mai 2001
Une assemblé publique est convoquée à 19:30 h, par le Regroupement des Citoyens avec des représentants de la Ville, de la Santé, de l'environnement.